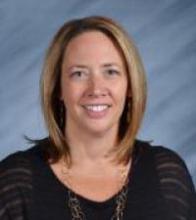 Why do you love being a teacher?:
I love working with kids and watching them grow.
What do you like to do outside of school?:
Outside of school I love to spend time with my family. During the summer we do a lot of camping in our trailer. Throughout the rest of the year my time is spent at the ice rink and the horse arena. My oldest daughter attends Fossil Ridge High School and is a figure skater. My youngest daughter is at Kinard and is an English horse jumper.
What is a favorite quote of yours?:
"If you can dream it, you can do it" - Walt Disney
Courses Taught:
Outside of work I have taught women's self defense and martial arts classes.